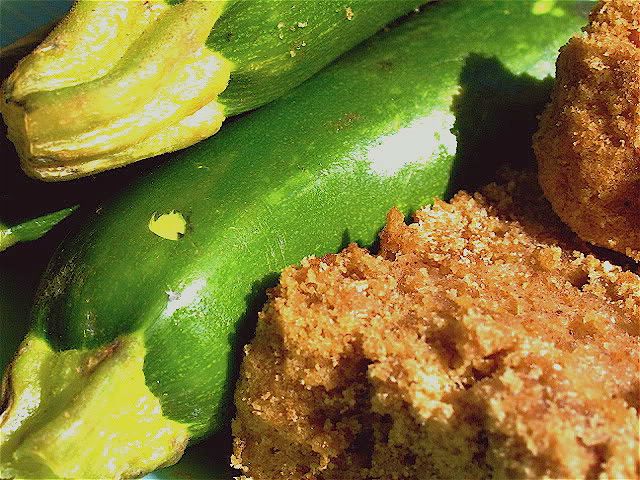 Squirrels ate all our strawberries, all our pumpkins, and almost all our zucchini. But yesterday, while poking around under the leaves and sticky vines, I gleefully discovered one monstrous vegetable they had somehow overlooked. I really should have taken a picture. If zucchini were ranked by size, this one was a prize specimen, fat, shiny, and at least 18 inches long. I decided that I would turn it into zucchini bread (which, despite its name, is really much more like zucchini coffee cake). I found the recipe below at Allrecipes and baked two delicious little loaves. I hid one to save for later, which was a good thing, because by morning, the other was almost gone.

The little zucchini in the photo came from the grocery store, not the garden. Is it just my dirty mind, or is their shape faintly remarkably, uh, phallic?

INGREDIENTS

Batter
3 eggs
1/2 cup vegetable oil
1/2 cup applesauce
2 cups white sugar
3 cups grated zucchini
2 teaspoons vanilla extract
3 cups all-purpose flour
3 teaspoons ground cinnamon
1/2 teaspoon nutmeg
1 teaspoon baking soda
1/4 teaspoon baking powder
1 teaspoon salt

Crust
1 cup brown sugar
1 cup all-purpose flour
2 tablespoons butter or margarine

DIRECTIONS
Preheat oven to 325 degrees F ( 165 degrees C). Grease and flour two 8x4 inch loaf pans. In a large bowl, beat eggs. Mix in oil, applesauce and sugar. Stir in zucchini and vanilla. Combine flour, cinnamon, soda, baking powder and salt; stir into the egg mixture. Divide batter into prepared pans.

Combine crust ingredients. Work with fingers until it becomes the consistency of crumbs. Sprinkle on top of batter.

Bake approximately 70 minutes, until fork inserted in center comes out clean.