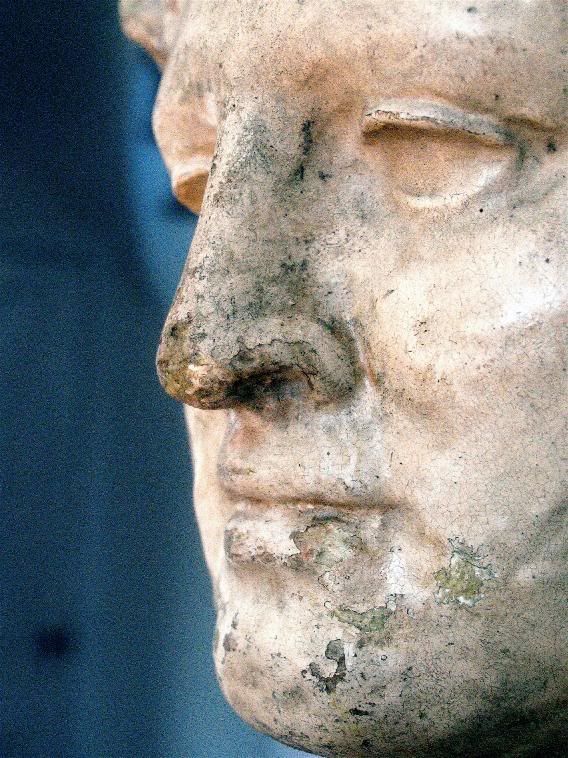 Maggie, who posts stunning photos, tagged me for the book meme that's been snowballing its way through the blogosphere.

The rules are simple. Look up from the computer, look around the room where you're sitting and pick up the closest book. And closest really means closest. No cheating by running upstairs to unearth your pink-highlighted college copy of The Critique of Pure Reason or the Prolegomena. Open the book, turn to page 123, count down to the fifth sentence on that page, and then post the next three sentences.

Now, if the meme hadn't been limited to books, you'd be reading a selection from the large stack of home decorating magazines piled next to the guest room bed. Something like: The kitchen cabinets, hand-crafted from exotic African wenge, make a definite fashion statement, their rich, dark color playing up the whimsical jewelbox tones of the tumbled marble backsplash.

Instead, what you get is this:
interea, meanwhile; sometimes nevertheless, notwithstanding.

interemptor, -oris, m., murderer.

intereo, -ire, -li, -itum, to be lost, to perish.
I suppose it's appropriate enough, since (if you haven't already noticed) I have kind of a thing for Latin and I think that all kids should study it.
Here's my reasoning: Unless you speak a second language at home or you're lucky enough to have a school with an immersion program, you're unlikely to learn a foreign language well enough to be of much use. In Latin, you don't have to waste your time trying to get the accent right, so you can focus on the content and structure of the language itself. Learning Latin increases your knowledge of English, since much of our more abstruse* vocabulary is rooted in Latin. Latin is also perfect for dissecting the workings of grammar, since you can put words in any order you like and the sentence will still mean the same thing. The only difference between
The gladiator killed the lion
and
The lion killed the gladiator
is which noun is in the accusative case. Plus you can learn hilarious Latin jokes like
semper ubi sub ubi
and, since
sub
means 'under'
ubi
means 'where,' heh, heh you said underwear!
What language did you take in school? How well did you learn it? Has it been useful?
Because this meme is so easy, I'm going to tag lots of you. (Though go ahead and skip it if you've already done this one or you avoid memes as a matter of principle.)
ewe are here
las
delphi
k
amy
one tired ema
caro
law mommy
sarah
yolanda
amanda
angela
samill
*Case in point:
abstruse
comes from the Latin
abstrusus, 'put away, hidden,'
from
abstrudere, 'conceal,'
from
ab, 'from' + trudere, 'to push'Edited to add: And (though I can't think how I missed seeing this before), it's kind of appropriate that one of the Latin words on page 123 means "to be lost, to perish" and another means "meanwhile" or "nevertheless."